ZOMEHOME Smart Energy Program
ZOMEHOME is a residential smart energy program, available as a mobile app, which allows homeowners to register their thermostats, appliances, electric vehicle chargers, solar arrays, and storage with ZOMECLOUD.
ZOMEHOME reduces a homeowner's energy bill and enrolls their home in rewards programs that help balance the grid and reduce greenhouse gases that pollute our planet.
ZOMEHOME works with smart thermostats and will include support for solar panels, electric batteries, smart appliances and electric vehicle chargers.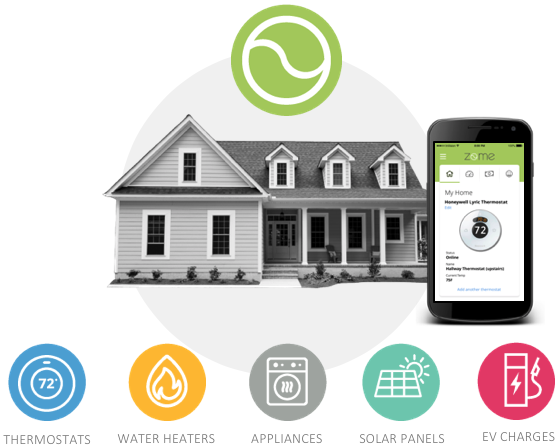 How It Works
Utilizing real-time external data, advanced AI and machine learning, ZOMEHOME makes small adjustments to heating and cooling levels, appliance timing, and solar / EV battery loads to reduce energy consumption. For example, when energy costs spike due to high utility demand, ZOMEHOME reduces cooling to avoid high rates. In turn, the utilities energy grid becomes more balanced minimizing the need for additional energy production.
In addition to lowering utility bills, ZOMEHOME can enroll users in electric Utility rewards programs and related energy programs that pay consumers to voluntarily reduce usage during peak demand. ZOMEHOME households assist in balancing the power grid minimizing blackouts and avoiding the use of dirty energy sources that negatively affect the environment.