ZOMEKit for Buildings
ZOMEKit for Buildings can be used in apartment buildings, warehouses, college/school dorms, office buildings, mixed use office-residential complexes, shopping malls, government buildings, and other buildings with thermostats and/or hot water heating. ZOMEKit for Apartments is our flagship product, and provides a turnkey energy management and optimization solution for apartment towers and complexes.
ZOMEKit allows building owners to enjoy energy savings and even revenue production from their buildings by coordinating their energy usage with the rest of the Energy Grid, helping the Grid in times of need and getting paid for it.
Consumers living in the apartment units can share in the energy savings and revenue generation, enjoy cutting edge home appliances and devices, and take pride in being "green" all the while maintaining control by being able to opt out at any time.
The electric utility benefits by having a flexible load resource (the ZOME outfitted building) to count on for their advanced (fast response time) ancillary energy services.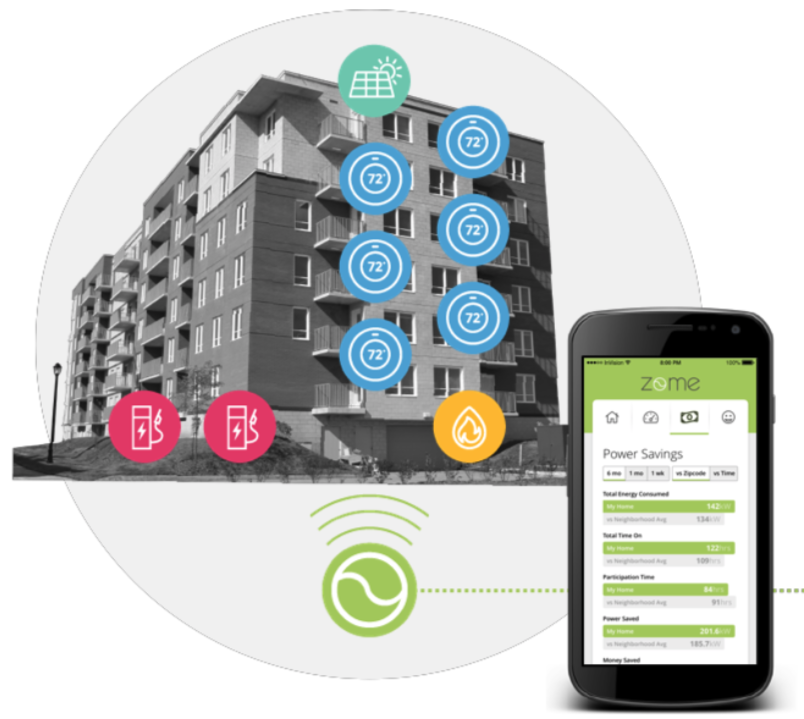 How It Works
The ZOME gateway is placed in a central location in your building and controls devices wirelessly. Unlike other MDU solution sets requiring a gateway device in every apartment unit, only one is required with the ZOME solution set. A second ZOME gateway can be used for communication redundancy and near- guaranteed 100% uptime.
The ZOME gateway communicates with ZOMECLOUD and from there to live data feeds such as energy market pricing and weather data, and connects the building directly to various energy markets for energy monetization programs.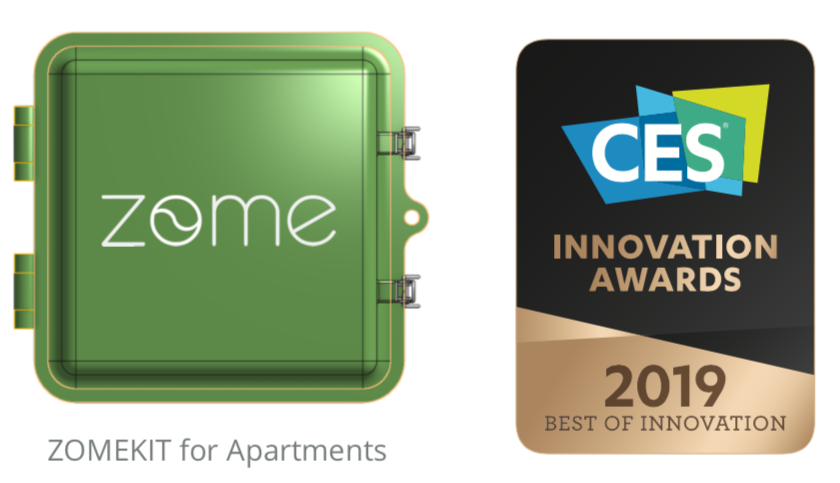 ZOMEKIt is a win-win-win. A win for tenants saving money, a win for building owners being able to make money, a win for utilities who benefit from reduced use during times of peak demand, and a benefit for the environment and the world in an age of climate change."
Mike Martin
Building Owner, Portland Oregon
Benefits to Apartment Building Owners
Energy savings for tenants and common areas
Revenue generation through grid- balancing energy programs
Direct access to wholesale energy markets
A practical path to convert conventional buildings into smart micro-grids
ZOMEKIT Control Adapters
Smart Thermostat
Window AC Power Switch
Water Heater Power Switch
Appliance Power Switch
External Temperature Sensor
IR Control for Appliances
The ZOME gateway supports expansion of Distributed Energy Resources including smart appliances, EV chargers, rooftop solar, and electric batteries.
TECHNICAL SPECIFICATIONS
Internals

Intel® Celeron® processor J4005
4GB DDR4 SO-DIMM 2400 MHz
32 GB on-board eMMC
Gigabit LAN

Power

19V, 65W AC-DC power brick adapter

Safety

IEC 60950-1
UL 60950-1
EN 60950-1
CAN/CSA-C22.2No.60950-1

LTE - NA

LTECAT1:700(B12,B13)/850(B5)/ AWS(B4)/1900(B2)
HSPA+:850/1900MHz
Transferrate(max):10Mbpsdown,5 Mbps up